Anxiety UK Approved Therapist
As an Anxiety UK Approved Therapist, I am subject to Anxiety UK's regular monitoring of my professional qualifications, supervision, continual professional development, insurance and professional body membership in addition to complying with the ethical framework and professional standards set down by my registered governing body.
My business is registered with the ICO (UK). Professional and public liability insurance held (Zurich).
My business is ICO-registered in Chippenham, Wiltshire. However, as an online hypnotherapist for perimenopausal / mid-life women, I can provide support to English- women in any suitable time zone (including Canada and USA).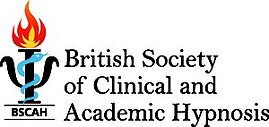 Hypnotherapy accreditation
Level 4 Diploma in Cognitive Behavioural Hypnotherapy/DipCBH from UKCHH. This Diploma is BPS, NCFE, BPS, GHR, NCH and REBHP accredited.
Anxiety UK-approved clinical online hypnotherapist
Member of the professional hypnosis society BSCAH
Registered Hypnotherapist (GHR Reg 8817) General Hypnotherapy Register
Accredited Practitioner, General Hypnotherapy Standards Council
Member International Society of Hypnosis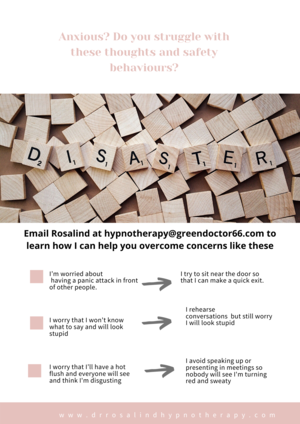 My toolbox of acronym-abundant techniques: CBH, CBT, ACT
I mainly use and teach clients cognitive behavioural therapy/CBT, Acceptance and Commitment Therapy/ACT, and Hypnotherapy. Cognitive behavioural hypnotherapy (CBH) combines mainstream CBT including ACT with hypnotherapy. Both are evidence-based and used in conventional Western Medicine. Hypnotherapy uses the power of your imagination to make the changes you want.
This link (please remember to return here) has a clear outline of what you can expect from a competent CBT therapist.

CBT works through understanding that our thoughts (cognitions) influence our feelings/emotions, behaviours, and bodily sensations to events. I will help you to recognise and change unhelpful ingrained/subconscious assumptions and patterns of thinking +/- your behaviours so you feel better and behave in line with your values.

Evidence from clinical trials shows that CBT is particularly helpful for anxiety, panic, mild depression, IBS, menopausal hot flushes.
Academia
BSc; MBBS (medical degree); MD (Doctorate); FRCP (Fellow of the Royal College of Physicians)
General Medical Council registration 3466216
Open University DE100 Investigating Psychology
I was an NHS consultant physician before training as a hypnotherapist. Although still GMC registered, I relinquished my licence to practise on early retirement. This means, for example, I no longer prescribe medication and I will always suggest that you follow evidence-based medical advice.
I am familiar with the stresses on students, having been an honorary PGCE tutor at Edge Hill University for several years. I taught medical students, postgraduate doctors and nurses throughout my career. I was also an examiner for the Royal College of Physicians.